Rose Shocking Blue
Posted On April 22, 2012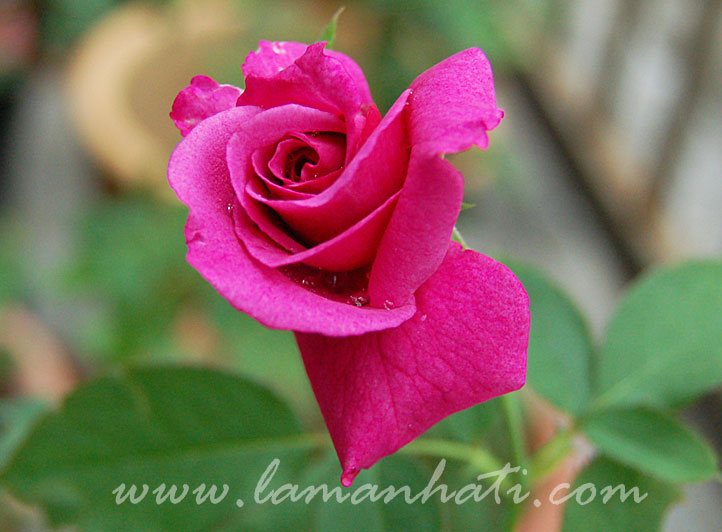 I'm not sure whether what I have here is really a floribunda Shocking Blue. The canes of the rose plant I got have so many thorns but other characteristics like color and fragrance are quite the same as the Shocking Blue described on helpmefind.com:
Mauve or mauve blend Floribunda.
Registration name: KORblue
Exhibition name: Shocking Blue ®
Bred by Reimer Kordes (Germany, 1985).
Floribunda, Florists Rose.
Mauve or purple blend. Strong fragrance. up to 28 petals. Average diameter 3.5″. Large, full (26-40 petals), high-centered, open bloom form. Continuous (perpetual) bloom throughout the season.
Thornless (or almost), upright, well-branched. Large, leathery foliage.
Height of 30″ to 4′ (75 to 120 cm). Width of up to 2′ (up to 60 cm).
For those who would like to know what is floribunda type:
Floribunda roses are dense bush roses that produce multiple blooms on each stem, but the blooms are often smaller than the hybrid varieties. These roses grow 2 to 3 feet tall and bloom with clusters of flowers throughout the summer.
Read more: Varieties of Purple Roses | eHow.com http://www.ehow.com/info_8464817_varieties-purple-roses.html#ixzz1shHWswFR
More info about floribunda here : http://scvrs.homestead.com/FabFloribundas.html
This is some tips taken from allaboutrosegardening.com:
Although they are free-flowering, and the bush is vigorous,they are slow to repeat blooms if they are not deadheaded.
Light pruning and removing spent flowers will keep this rosebush producing new flowers all season. Cool conditions seem to bring out the best flowers for both size and color.
I just got my Shocking Blue for about a month now and really hope it will last long in the garden.