Akar Dani / Rangoon Creeper
Posted On July 13, 2012
I have been planning to get this plant for so long since the first time I saw it bloomed profusely few years ago in one of my friend's neighborhood. I finally bought it in Floria 2011. At first I planted it in pot and somehow it didn't grow well. I decided to uproot and planted it in the ground. It grows but no flower comes out for almost a year.
And then I realized that such plant needs to climb over something for it to start to flower. So I trained the new shoots to climb over another plants and onto my house's postbox wall..and it works.
Check out the picture taken by Mr Hubby this morning when he was going to work. Lovely, isn't it?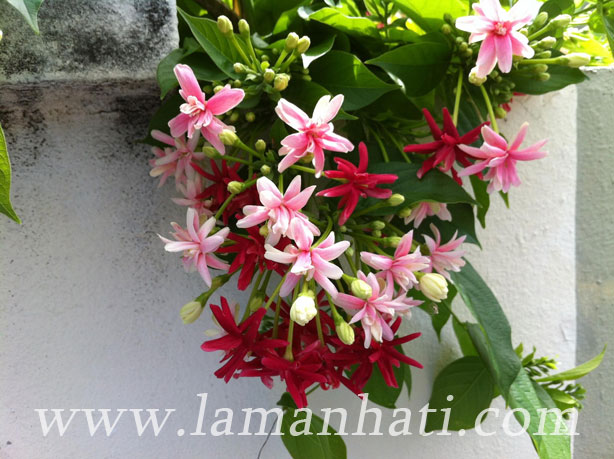 And this was taken the evening before when I went out to water the plant. I'm having blocked nose so I couldn't enjoy the sweet fragrance..huhu!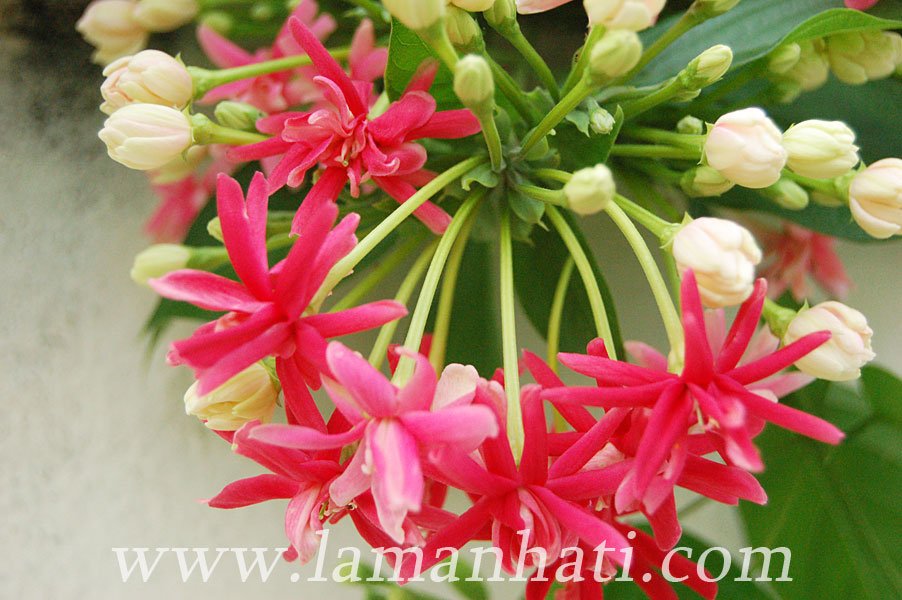 Here is some info about this Rangoon Creeper taken from rareflora.com:
QUISQUALIS INDICA 'DOUBLE'
Rangoon Creeper
Quisqualis indica is just one of the tropical, flowering vines that we offer. It is suitable to many gardeners all over the country because of its tolerance to be trimmed to any size. It can also be grown in pots. As the weather warms up, the display of flowers will begin to cover the lush foliage.
Rangoon Creeper has a unique bloom. One plant will carry 3 different colors of flowers. Flowers starts white and with age turn pink and then red. If that wasn't enough to please most gardeners, the flowers have a slight fragrance too. We carry 2 varieties. One with a single flower and another with a double. The single form is much easier to propagate, making it more common and readily available. Both are equally beautiful.
The plant goes semi dormant during the winter and resprouts again when it warms up.
Trimming is advisable just before it starts sprouting in late winter.
FAMILY : Combretaceae
ORIGIN : Tropical Asia, New Guinea
TYPE/USES : flowering vine
SIZE : vine up to 12′ on average
GROWTH RATE : fast
LIGHT REQUIREMENTS : full/partial sun
WATER REQUIREMENTS : average, less in the winter
MIN. TEMP. : mid 20's with protection
FLOWER : warmer months of the year