Kemuning Revisited
Posted On February 9, 2011
I didn't realize that the last time I wrote about the kemuning plant I have was in 2007..pheww..it has been 4 years and I can't even remember whether the one I have now is still the same plant or I have bought a new one..sigh!
Well, for those who would like to read about the first entry on Kemuning, you can check the link here : Kemuning- Murraya paniculata.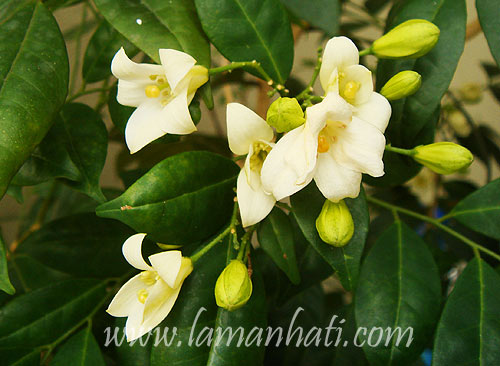 Ever since I moved the current pot of plant to a sunny spot, it has been flowering quite often. Of course whenever I spray with water or when it rains heavily, most of the flowers will fall down. So whenever the Kemuning plant is in the flowering phase, I always try my best to water it gently.
Oh, I've read in one of the Indonesian blogs about Kemuning. It says that the leaves could be pounded with few other herbal ingredients, add on water and strained. It is effective as slimming drink. I don't think I will try but it's good to know that the leaves and other parts of the Kemuning plant are safe to be consumed and not poisonous.