Kesidang – Vallaris glabra
Posted On September 6, 2008
This picture of kesidang plant has been taken somewhere last year. Over the last few months, with my morning sickness and all, it seems to be dying slowly. However since it is quite a sturdy and hardy plant, it grows back and today I notice some flower buds are coming out.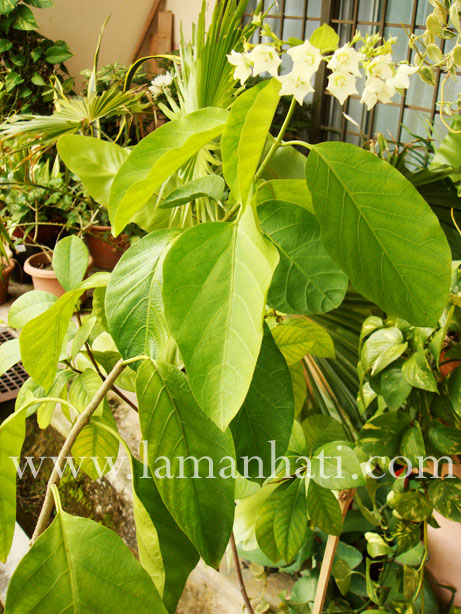 What I love the most about kesidang (bunga kerak nasi known in Northern Peninsular Malaysia or bunga tikam (tikar?) seladang in the East Coast) is its fragrance. If you know how pandan leaves smell like, then you know why people use this bread flower (known among the Westerners) in bunga rampai – the finely sliced potpourri of fragrant plants used for Malay weddings during the merenjis ceremony.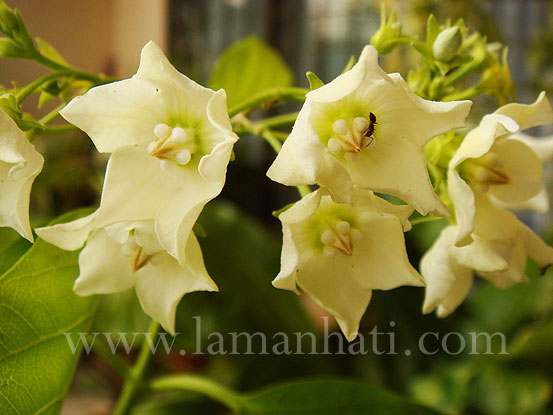 Kesidang or Vallaris glabra belongs to Apocynaceae family. Quoting from rimbundahan.org,
"As with many creepers, propagation is by layering. To propagate this plant you should anchor a long shoot to the ground with a brick, and roots will develop to create a new plant."
I read the same thing from magazine Laman Impiana which they call the technique as tut lentur. I've tried putting a brick on one branch and still checking whether the root comes out so that I can cut and plant it in another pot.
If you have a pergola or trellis at home, this kesidang plant will be a good choice for climber plants as the flowers bloom it will surely fill up the air around you with its pandan fragrance.