Henna – Lawsonia inermis
Posted On August 27, 2008
I took this picture of my henna plant in January and totally forgot about it. Browsing through my whole year of picture collections make me realize that I never mention about Henna in my gardening blog. As a person who love arts and craft, I also love the art of henna tattooing.
This henna plant is cultivated from the cutting that my aunt used during my wedding ceremony. As henna leaves have many other useful benefit (some people use it during confinement) I decided to keep it alive.
Taken from PlantCultures.org, here are some descriptions on the henna plant's parts: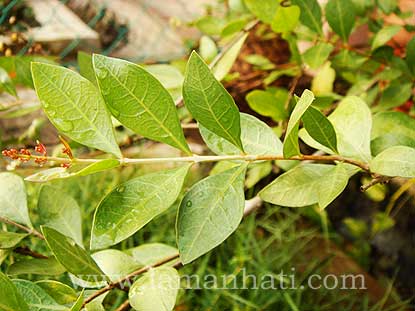 Leaves – used as a skin and hair dye and in traditional medicine. They are almond-shaped, tapering at the end attached to the tree.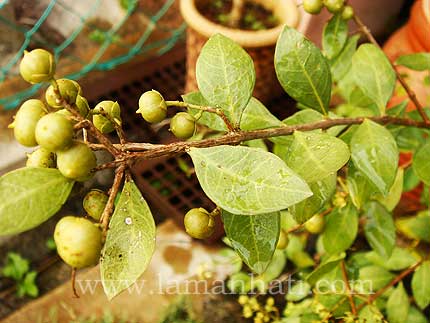 Fruits – seeds are used in traditional medicine and oil for perfumery. They are spherical in shape, about the size of a small pea (5-7 mm wide), brown when ripe and contain many little pyramid-shaped seeds.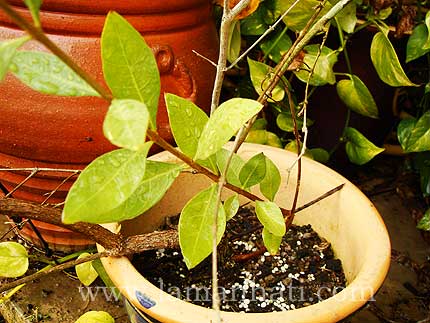 Henna is a shrub that can grow up to 7 m high at its tallest, with greyish-brown bark. Its wood is close-grained and hard and is used to make tool handles and tent pegs.
I am not sure how tall my henna plant will be in years to come, since I plant it in a pot. It is surely a hardy plant that is easy to maintain. It's growing well so far and I still don't have the chance to pound the leaves and use the paste to dip my fingertips.