The Jasmine-Melur
Posted On April 23, 2007

I noticed that my jasmine plant has been flowering heavily since the past 2-3 months. Maybe because I have been pruning the wildly arranged soft branches it has.
My Chinese neighbor who live in front of my house hires an Indian guy to take care of his garden and I noticed he has a big bush of jasmine plants in front of his gate.
Inspired by the flowering jasmine, I bought one pot for my yard and mine has been flowering as well.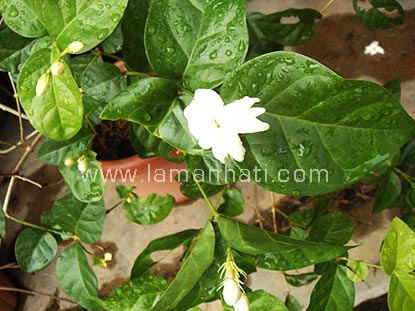 Now I'm trying to plant another pot by cutting the branch and stick in a pot of soil.
Last Saturday when I cleaned up my front yard and rearranged the flower and greens pots I noticed the branch seems to be alive (as long as it does not dry up and the leaves attached to it are still green in color), I hope it will grow soon.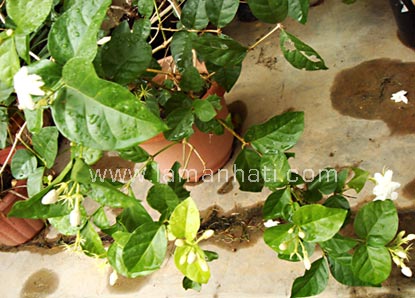 See all the flowers dropped to the cement floor, sometimes I wish the rain wouldn't be too harsh and that heavy.
Pity the jasmine flowers.
Whenever I find the time to go out to my front yard, I always pick those flowers and put them in a glass in my living hall.
At least they could still smell like jasmine before the sun dries them up.